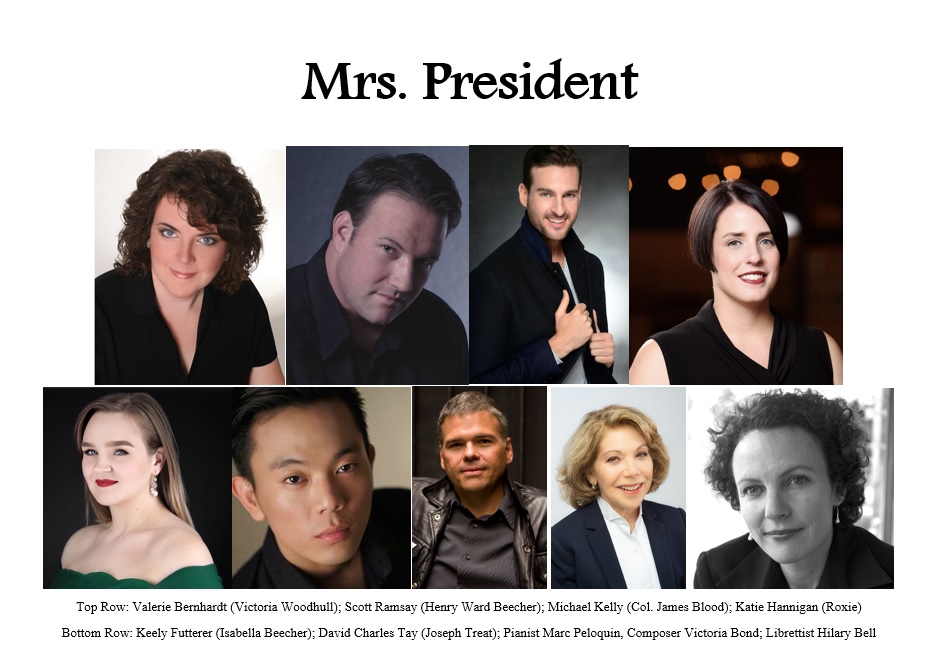 Mrs. President the opera
In honor of the 100th anniversary of Women's Suffrage, Cutting Edge Concerts will produce a concert performance of the opera, Mrs. President, about the first woman to run for President, by composer Victoria Bond, and librettist Hilary Bell. The opera highlights Victoria Woodhull, the first woman to run for President of the United States. A true revolutionary, she fought for women's rights and ran for the country's highest office in 1872, before women had been granted the right to vote. She was branded "Mrs. Satan" by the press because she posed a threat to society, and jailed on election night. In the final scene, Woodhull, in her prison cell, silenced but not defeated, looks ahead to a future generation of women who will realize her vision of equality.
The cast includes: Valerie Bernhardt (Victoria Woodhull); Scott Ramsay (Henry Ward Beecher); Michael Kelly (Col. James Blood); Katie Hannigan (Roxie); Keely Futterer (Isabella Beecher); David Charles Tay (Joseph Treat); Chorus: members of Dell'Arte Opera Ensemble. Pianist Marc Peloquin will accompany, Victoria Bond will conduct.