Cutting Edge Concerts New Music Festival is a month-long series on Mondays in April and May featuring the music of living composers with discussions between host Victoria Bond and the composers featured on each program prior to performances by outstanding ensembles and soloists.
Beginnings in 1998 at Greenwich House – modeled after Boulez's "Perspective Encounters"
In 1997 Greenwich House presented a concert featuring Victoria Bond as part of their North River Composer Portraits series in the Renee Weiler Auditorium in Greenwich Village, NY. The concert was such a success that she was invited to produce a contemporary music series the following year. This was the start of Cutting Edge Concerts, which began in 1998 under the name "Close Encounters." Bond's inspiration for the series was Pierre Boulez's "Perspective Encounters" which he conceived during his tenure as Music Director of the New York Philharmonic. As a student at Juilliard, Bond was Boulez' assistant for concerts he conducted with the Juilliard New Music Ensemble. His Perspective Encounters made a deep impression on her, particularly the format which involved lively discussions onstage between Boulez and each composer. Over the next eight years, she produced 26 concerts at Greenwich House and in 2007 moved the series, now called "Cutting Edge Concerts New Music Festival," to Symphony Space on the Upper West Side. Diversity has always been an important component, including diverse styles (jazz, avant-garde traditional), diverse cultures, and both established and emerging composers and performers.
Collaborations
Cutting Edge Concerts New Music Festival has coupled composers with weavers (Woven Sound), composers and architects (Shaping Sound), and composers and music therapists (Can Music Heal?) The Festival partnered with Dean Drummond to produce a concert of the music of Harry Partch using many of Partch's unique instruments.
Collaborating with new music ensembles has been an important aspect to the festival, and some notable groups include Argento, Sequitur, Cygnus, the Cassatt, Colorado, Flux and Lark String Quartets, Encompass Music Theater, Da Capo Chamber Players, The Manhattan Choral Ensemble, PULSE, the Jade Trio, Sylvan Winds, Janus Ensemble and Newband.
Composers and Premieres
Significant composers include Laurie Andersen, William Bolcolm, Bright Sheng, David Del Tredici, Philip Glass, Derek Bermel, Jennifer Higdon, Andrew Norman, Joan Tower, Tobias Picker, Huang Ruo, Chen Yi, Zhou Long, Harold Meltzer, Peter Schickele and John Harbison. Notable premieres include Derek Bermel's "Thracian Sketches," Paul Moravec's "Angels Dancing," Pauline Oliveros' "Sounding for Well Being," Judith Shatin's "Penelope's Song" and the solo hyperglycemia piano transcription of Philip Glass' "Piano Concerto #2."
The Festival has produced fully staged chamber operas including "My Last Duchess" by Theodore Wiprud, "The Clever Mistress" by Robert Sirota, "The True Last Words of Dutch Schultz" by Eric Salzman, and concert performances of "The Four Seasons of Futurist Cuisine" by Aaron Kernis, "Language Instruction," by Derek Bermel and scenes from Victoria Bond's operas, "Mrs. President" and "Clara."
Chamber Music America Magazine: Spring 2014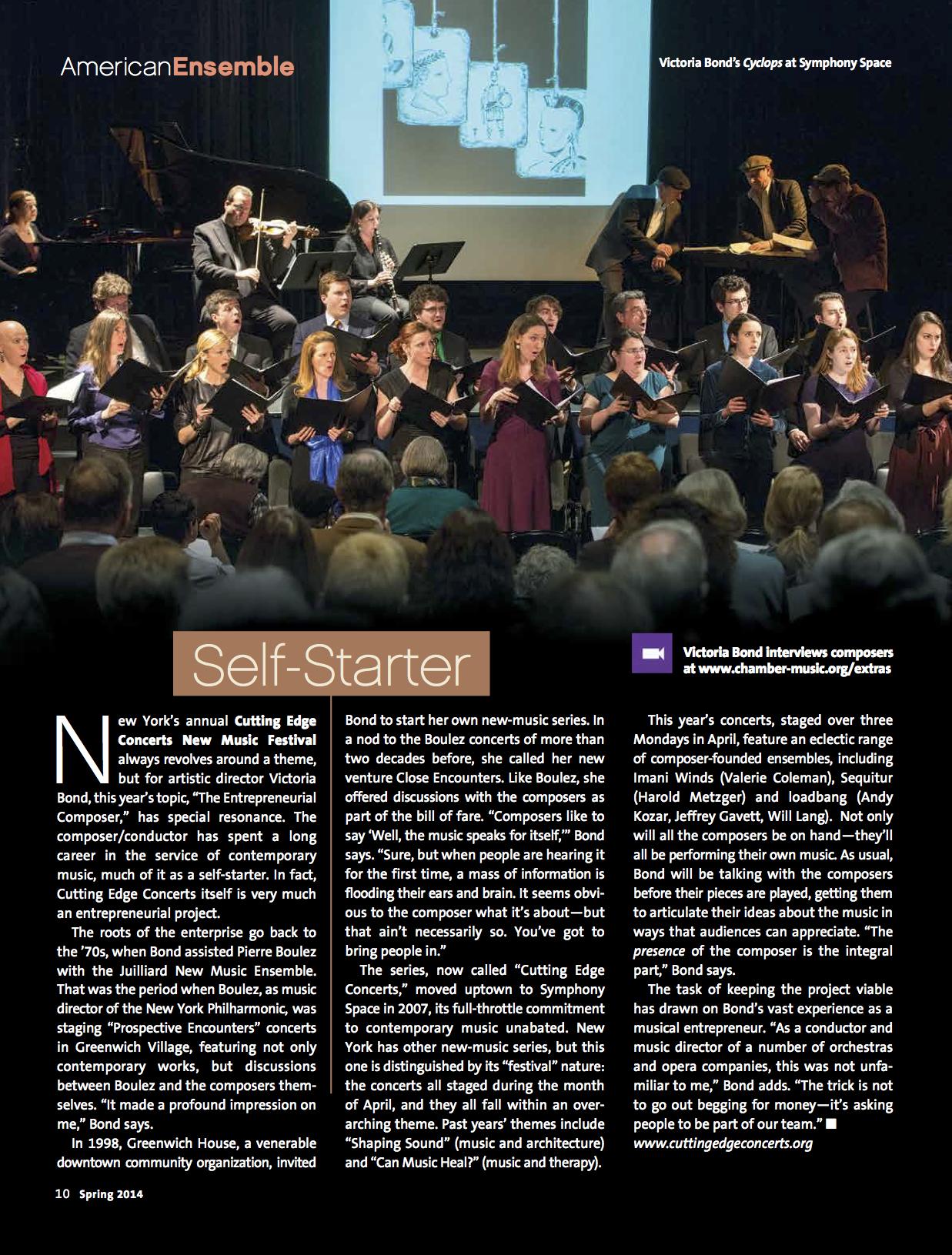 President
Stephan Peskin
Artistic Director
Victoria Bond
Executive Director
Gillian Bobnak